How do smart thermostats work in Allentown?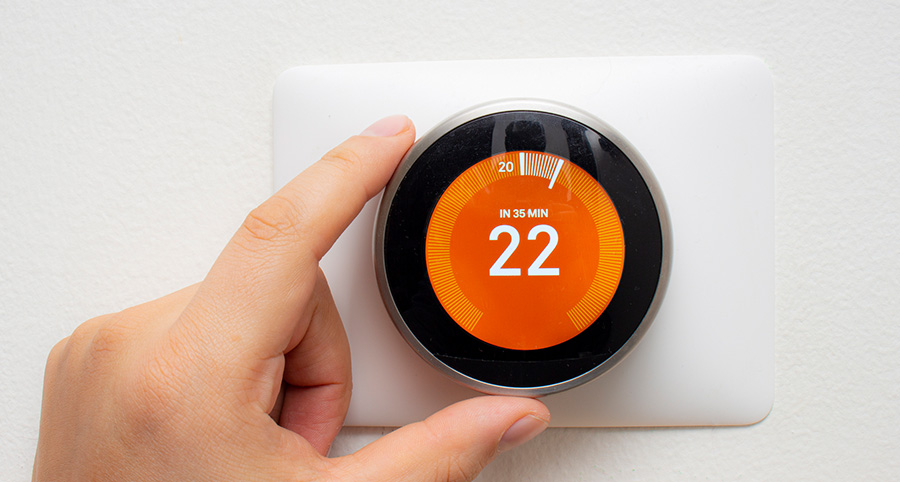 Picture having the chance to control your home's comfort settings by speaking a simple directive or by going to an app on your cell phone. Now, go a step further and think about having a device that is able to actually learn your preferred settings and adjust automatically. As you can see, smart thermostats are pretty amazing advancements in technology capable of adding a new level of convenience, energy savings, and even safety to your household. Continue reading to get a better idea how they work and what they can do for your family.
How do smart thermostats differ from traditional models?
Notwithstanding their impressive features, smart thermostats function in part like traditional versions. For instance, they are hardwired straight to your heating and cooling system. You are also able to manually raise and lower the temperature by touching the device fastened to your wall. But that's about where the commonalities conclude.
Allentown smart thermostats bridge to your home's Wi-Fi
The critical connection to your wireless network is the easiest way to differentiate smart thermostats from standard models. This allows a multitude of exciting capabilities like remote accessibility and control. Basically, you can alter your HVAC system from wherever you are. Did you not remember to lower the settings when departing on a trip? No problem. All you need to do is access the intuitive Vivint app on your mobile device and take care of it. There are many other actions you can take with the app, such as:
Switch between HVAC modes
Set your system to a preprogrammed mode like vacation, home, or sleep
Activate or deactivate your fan
Receive updates when temperatures are manually or automatically adjusted
Modify HVAC settings by simply speaking a directive
Your wireless connection gives you one more incredible advantage as you can link your unit to an Amazon or Google smart speaker. If you're trying to keep warm on a cold winter's evening and you don't want to get up from your toasty seat on the sofa, just say an order like "Alexa, turn up the thermostat three degrees".
Vivint Smart Thermostat can adjust automatically
The Vivint Smart Thermostat will take convenience to a higher level with its available Smart Assistant. When set up within your smart home, the thermostat has the ability to utilize in-home sensors and other features like geolocation to discern if you're in the house or not. In addition, this intelligent component will even learn your preferences and adjust to match. To illustrate, if you generally like things to be cooler at night, the thermostat will take note and do it for you.
Integrated safety measure to counteract a fire
The automated aspect of your device also impacts your safety. The Vivint Smart Thermostat includes an emergency HVAC shutoff when fire is detected to limit the spread of flames and smoke. You could also have it instantly activate the exhaust fan to help vent your property.
Lower your energy bills in Allentown
Your smart thermostat's potential to adapt HVAC settings on its own and your ability to change them from any location isn't just a nice feature, it's smart for your pocketbook. If you change the settings up to 10 degrees for when you aren't home, you are able to save quite a bit - up to 10% on energy costs.
Get started on your own Allentown smart home
Now that you have a greater understanding of how smart thermostats work in Allentown, it's time to bring one into your residence. The Vivint home security specialists are here to help. Just dial (601) 514-6514 or submit the form on this page to get started.
Communities Served Around Allentown By Smart Security Specialists Your Local Vivint Authorized Dealer